Another successful Stihl product training at C. Woermann Nigeria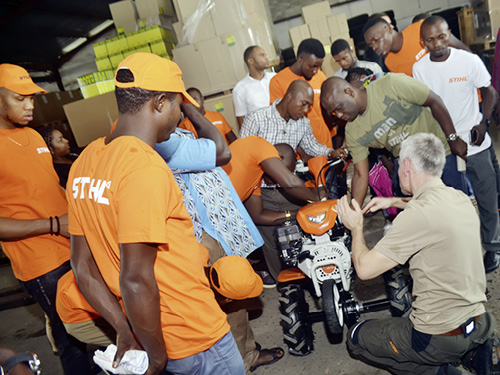 Once again C. Woermann Nigeria proved to be not only a source of technical products but also of knowledge transfer in form of in-depth and hands-on training by trained and experienced professionals at our in-house training centre in Lagos.
The training was conducted by Stihl Germany Senior Trainer, Mr. Volker Röhlich, and Stihl Sales Director, Mr. Johannes Wetzel, in cooperation with our experienced Stihl sales team.
The over 40 participants were not only Stihl dealers, end-users and company representatives from Nigeria, but also representatives from Sierra Leone as well as Ghana. Thanks everyone for coming over to C. Woermann Nigeria, we were delighted to have you!
The participants as well as the 2 Stihl representatives from Germany and management of C. Woermann Nigeria were overwhelmed by the outcome and the results of the training. In the words of Mr. Johannes Wetzel: "What a great group of trainees we had here at C. Woermann Nigeria. Everybody was unbelievably active and so interested not only in our innovative agricultural machinery – they improved their knowledge and their skills with existing machinery as well. We enjoyed the vibe, the energy and the people very much! We will definitely be back!"
Stihl will focus on further supporting agriculture and its development in the next years. The first machines for small and mid-size farms were presented successfully in action and every participant had a chance to use each of the machinery.
According to Mr. Ossy one of our top Stihl dealers: "the training sessions were very educative and enlightening and the trainers really engaged each participant."
The training covered amongst other machines these products:
• The New STIHL 230 series
• Petrol High Pressure Washer RB 800
• Tillers MH 610 and MH 710
• MS 651 and MS 382 Chainsaw
• Palm cutter PC 75
• Pole Pruner HT 75
• Cut-off TS 420 and
• Mistblower SR 420
We are grateful to everyone who made the training a huge success, it was another successful Stihl training here at C. Woermann Nigeria!