Introduction of Apollo Tyres to truck fleet owners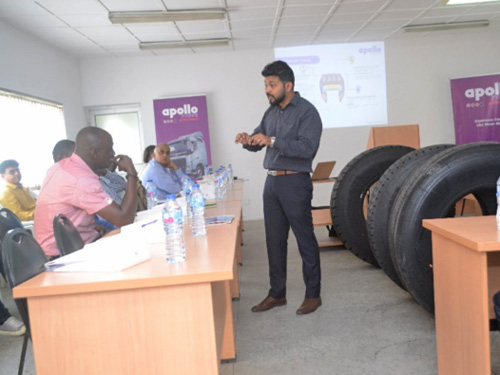 On the 23rd and 24th May, 2019 we hosted representatives of truck fleet owning companies at our training center where we introduced them to the partnership of Apollo tyres and C. Woermann as the Apollo tyres representative in Nigeria and also the full range of Apollo Tyres that we have in our inventory, with focus on the truck tyre range: Apollo EnduTrax MA, EnduTrax MD and EnduRace RA.
The event was facilitated by a combined team of representative from Apollo Tyres Mr. Yogesh Singh (Regional Head Sales - East & West Africa), Mr. Sourabh Nair (Specialist – Tyre Testing), Mr. Kunle Alaba (Country Coordinator for Apollo) and C. Woermann representatives.
Participants were trained on the difference in the three truck tyre specs and how to get the best performance from their tyres.