MIS and C. Woermann present innovative solutions for food processing and packaging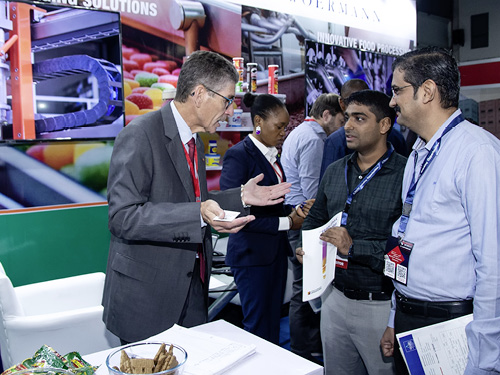 Propak West Africa 2023 provided the perfect platform for Machinery and Ingredients Solutions (MIS) and C. Woermann Nigeria to introduce their new strategic collaboration. At the leading trade show dedicated to industrial packaging both companies presented state-of-the-art technologies for environmentally friendly, fast, reliable, and economical packaging and processing solutions for virtually all industries in the sector.
A solid new combined package: C. Woermann Nigeria and Machinery and Ingredients Solutions (MIS)
Hand in hand with leading industrial partners in Europe, this cooperation offers substantial support to local food manufacturers to achieve highest standards of packaging and processing solutions.
MIS is a recognized African leader in food manufacturing, high-speed packaging systems and industrial automation. Besides technical and market expertise, MIS provides valuable long-term partnerships with some of the most advanced manufacturers in Europe. They offer consultancy to the client through their own experience paired with direct contacts and visits of the Solution Providers.
At C. Woermann, the highly competent sales team includes experienced process engineers trained on electrical process automation. Engineers and technicians are in constant exchange with local industries on the challenges they face in manufacturing vital products for the country. Additionally, the company offers import, transport, warehousing, training and after sales services.

Some key areas include:
Turn key installation for the food industry
Promer, an Italian company, provides consulting with product and process specialists and offers complete solutions for the food industry, including processing, packaging, climate-controlled facilities, palletizing, logistics, and automation.
Precision in food and pharmaceutical manufacturing
Our ROMACO KILIAN tablet press solutions, tailored to meet the exact requirements of the pharmaceutical industry, commanded the attention of industry professionals through virtual showcases. These avant-garde machines facilitate the creation of precise pill formations, ensuring full compliance with regulatory standards and bolstering production rates.
Confectionery mould and packaging systems
Confectionery manufacturers could virtually explore Theegarten-PacTec confectionery mould and packaging systems. These solutions are designed to confer flexibility and precision, indispensable attributes for efficient confectionery production and packaging.
Dairy dosing and packaging solutions
Our virtual exhibit featured dairy packaging solutions of GRUNWALD designed to extend product shelf life and uphold the freshness of dairy products.
Cocoa processing and packaging
For the cocoa industry, HDM, Hamburg Dresdner Maschinenfabriken showcased its prowess in cocoa processing g through virtual presentations. These solutions not only safeguard the quality of cocoa beans but also elevate productivity and minimize wastage, indispensable considerations for sustainable growth in the cocoa sector
Flour packaging
Flour packaging occupies a pivotal role within the food industry, and our systems deliver precise measurement and packaging of flour products. Visitors could virtually explore how these solutions can streamline flour production and packaging processes, resulting in cost savings and heightened product consistency. Smaller high speed packaging can be realized through our partner HASTAMAT whilst sacks are being packed by machinery of Behn & Bates.