Opening of new branch in Iseyin: Strong focus on professional agricultural machinery and tools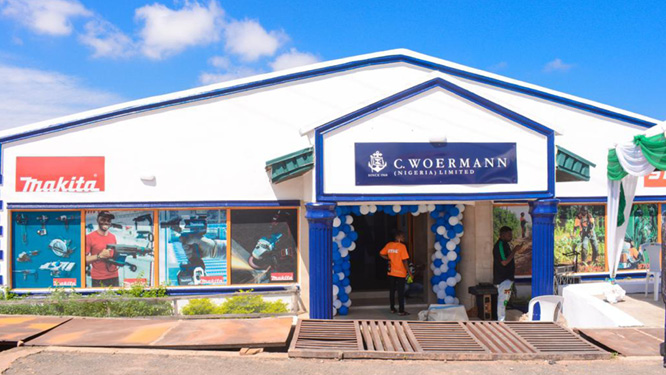 The agricultural industry in Nigeria's Oyo State is experiencing a transformative moment as C. Woermann Nigeria Ltd. celebrates the grand opening of its Iseyin branch. From tillers and harvesters to irrigation systems, the store offers a comprehensive range of tools to reduce manual labour, increase efficiency and maximise yields in Nigeria's south-western agricultural landscape.
By curating a diverse range of products from leading manufacturers such as STIHL, MAKITA and Liqui Moly, we are helping to redefine the way farmers work in this part of the country.
The new branch is located at 96 Saki-Iseyin Road, 202101, Iseyin, Oyo State.
Expert Guidance and Support
One of the hallmarks of C. Woermann Nigeria Ltd. is its dedicated team of experts who have nearly 60 years of in-depth product knowledge and understanding of the Nigerian agricultural industry.
Live product demonstrations showcased the remarkable capabilities and features of the machinery and implements available. Farmers saw first-hand how these cutting-edge solutions can improve their productivity, optimise resource use, and contribute to sustainable farming practices in Nigeria. The demonstrations were also led by experts who answered questions, provided detailed insights, and offered practical tips on how to get the most out of the equipment.
Whether it's understanding the latest technology trends or seeking technical support, our team is committed to empowering Nigerian farmers every step of the way.
Exclusive offers and promotions
To celebrate the grand opening, C. Woermann Nigeria is rolling out exclusive offers and promotions available only during this period. Customers can take advantage of special discounts, bundle packages and financing options to make the most of their investment.
These limited time offers provide an excellent opportunity for farmers to embrace modern technology and stay ahead in Nigeria's evolving agricultural industry.
Not simply a store but a community
At C. Woermann Nigeria, we are committed to fostering a strong community of farmers and agricultural enthusiasts.
The grand opening event will serve as a platform for networking and interaction, allowing like-minded individuals to connect, share experiences and forge collaborations.
The opening of the C. Woermann Nigeria Iseyin branch marks a significant milestone in the agricultural landscape of Southwest Nigeria. With a focus on innovation, expert advice and community building, the store is set to empower Nigerian farmers and transform the way agriculture is practiced in the country. From state-of-the-art machinery and farm tools to personalised support and exclusive offers, C. Woermann Nigeria is committed to equipping farmers with the tools they need to thrive in an evolving agricultural landscape.
Visit our new branch at: 96 Saki-Iseyin Road, 202101, Iseyin, Oyo State