Klingspor and Apollo Trainings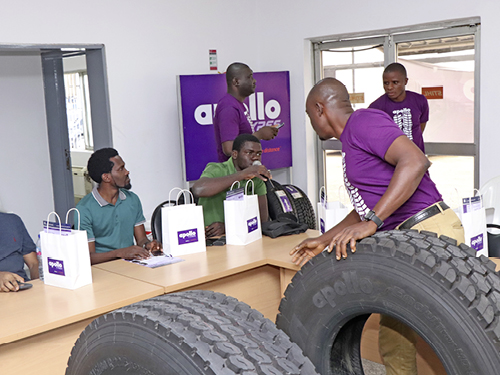 In August our Training Centre in Lagos hosted two trainings by our manufacturers Klingspor and Apollo Tyres. Dealers and end-users had the opportunity to learn about the products and their applications, discover them hand-on and asks questions.
—-
The Managing Director of Klingspor South Africa, Mr. Brent Strydom was at C. Woermann Nigeria on a 4-day visit to some key Klingspor dealers and end users in order to get firsthand information on their various challenges and suggestions about Klingspor abrasives in the Nigerian market.
During his visit he facilitated a 1-day training for both dealers and end-users of Klingspor abrasives that covered both in-depth product knowledge to educate on the different Klingspor products and their correct applications and also safety training on necessary precautions and safety procedures that should be put in place before and whilst working with power tools.
—-
In cooperation with Apollo Tyres, we gathered truck fleet owners for a 2-day product training.
This training was facilitated by Mr. Sourabh Nair (Customer Service/ Tyre Testing Apollo Tyres Dubai, UAE) with support from Mr. Kunle Alaba (Nigeria Country Manager, Apollo Tyres) and Mr. Olatubosun Ojo (Deputy Head Automotive, C. Woermann Nigeria).
Participants were introduced to the various Apollo Tyres range for trucks, namely ENDU Trax MA, ENDU Trax MD and ENDU Race RA. They were further educated on the difference in these three truck tyre specs, on the proper applications for each and how to get the best performance from their tyres.
See images from there training sessions below: