Liqui Moly Training 2017: Lubricants, Additives and Car Care products made in Germany
We at C.WOERMANN fully represent German's finest LIQUI MOLY, which is Nigeria's most popular brand of motor oil. For years, awards such as "Top Brand" or "Best Brand" have reflected our excellent reputation among both experts and end consumers. These series victories are anything but a coincidence or merely automatic.
The 2nd Commercial Liqui Moly training for our dealers was held at C. Woermann (Nigeria) Limited office this month which was anchored by the Technical/ Commercial Advisor of
LIQUI MOLY GERMANY
, Mr. Tim Braun. The training was attended by various dealers/ technicians from different states of Nigeria focusing mainly on car/passenger cars and buses lubricants, ranging from Engine Oil, Hydraulic Oil, Transmission Oil, Additives and Car Care products.
The basic points on the training were strategies on business approach to sales of lubricants; quality/additive packages of the different oils and their USPs; proper changing of lubricants and engine flushing; right usage of Oils and dosage of additives; process of productions; system and business module for export of the product; logistics and transportation of production.
One brand – all solutions! LIQUI MOLY is one of the few full range brands in the country and offers more than 500 products from its one-stop shop! We offer the world's widest,
DEEPEST RANGE OF MOTOR AND GEAR OILS, FUEL AND OIL ADDITIVES, CARE PRODUCTS, CHEMICAL PROBLEM-SOLVERS AND SERVICE PRODUCTS, REDUCTION OF DOWNTIME COST, COST SAVINGS ETC,
in premium quality – always and everywhere in Nigeria.
Please feel free to visit C. Woermann (Nigeria) Limited office to see and benefit from our unique full range of oils, additives, care products and much more which are products of the highest quality and highest value, for vehicles, machinery, workshops, trade and industry engines etc.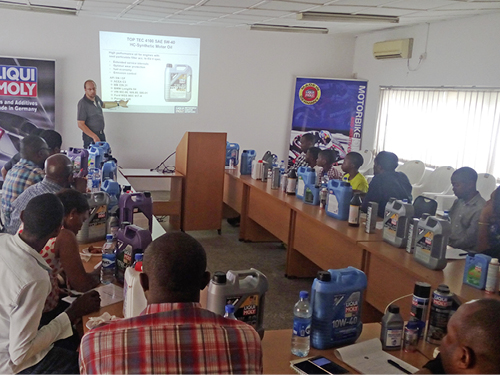 Mr. Tim Braun, Technical/Commercial Advisor of Liqui Moly Germany presents at ur Training Centre in Lagos.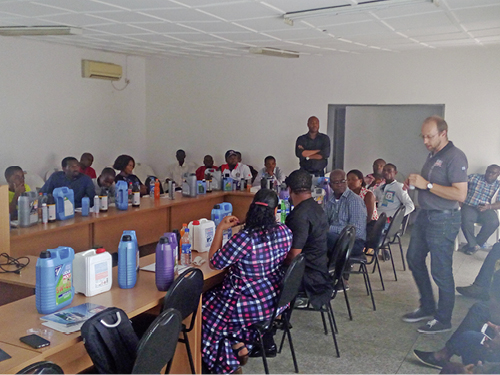 Answering questions about Liqui Moly products and their application and distribution.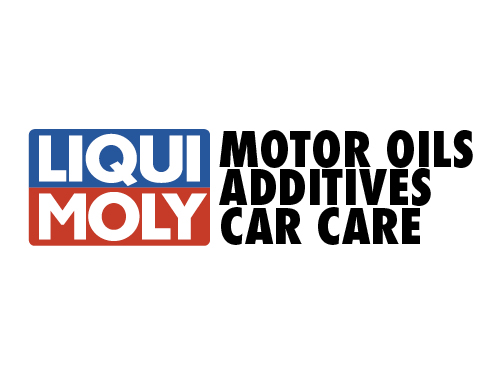 Liqui Moly offers high quality lubricants, additives and car care products made in Germany.