One-day WABCO training at Lagos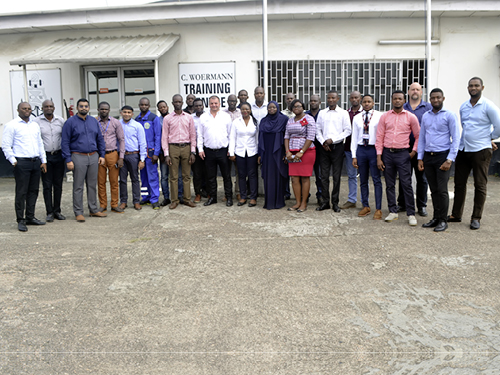 Some impressions from our one-day WABCO training held in our training centre in Lagos this week. Expert knowledge directly from a leading manufacturer in the field and an opportunity to learn about products and get answers directly from the source.
WABCO is a top manufacturer of electronic braking, stability, suspension and transmission automation systems for heavy-duty commercial vehicles like buses, trailers and trucks.
You can find some products of our WABCO range by clicking this link.
At C. Woermann Nigeria, we stock the best OEM parts for most top truck brands such as MACK, Mercedes, Iveco, Actros, DAF, etc. Thank you to all who took part in our training.
About WABCO
WABCO is a leading global supplier of technologies and services that improve the safety, efficiency and connectivity of commercial vehicles. Founded nearly 150 years ago, WABCO continues to pioneer breakthrough innovations for advanced driver assistance, braking, stability control, suspension, transmission automation and aerodynamics. Partnering with the transportation industry as it maps a route towards autonomous driving, WABCO also uniquely connects trucks, trailers, drivers, cargo, and fleet operators through telematics, as well as advanced fleet management and mobile solutions.