Proud sponsor of German Nigeria Business Forum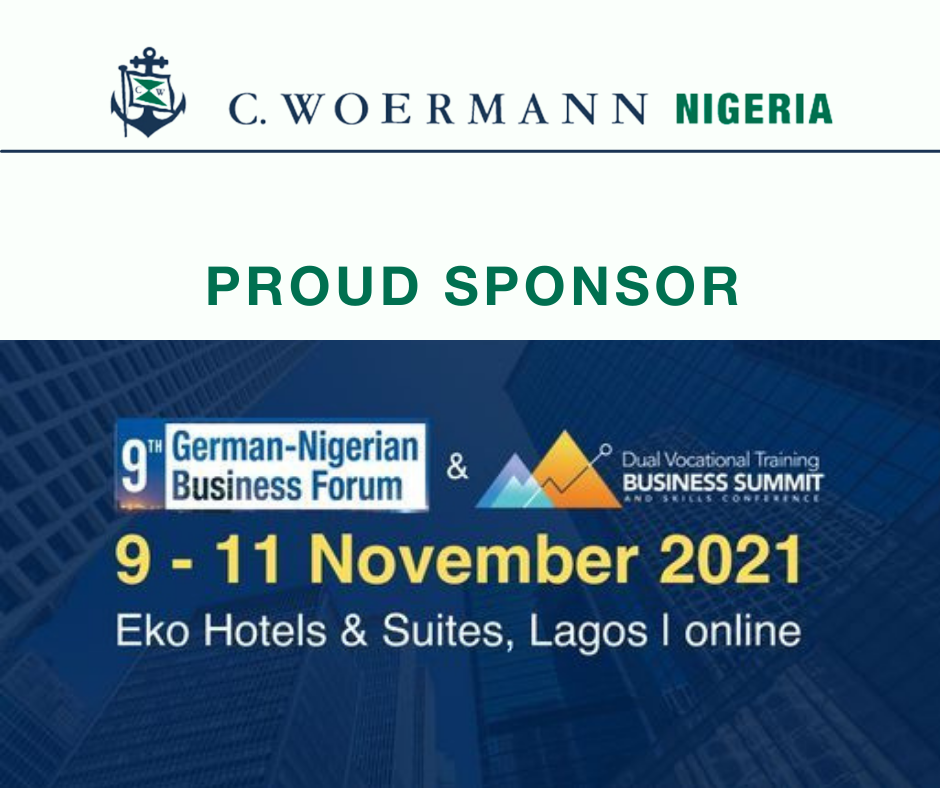 C. WOERMANN NIGERIA is proud to be one of the sponsors of the 9th German - Nigerian Business Forum (GNBF) that would hold from 9th – 11th November 2021 at the Eko Hotel and Suites, VI Lagos.
This event is organized by the Delegation of German Industry and Commerce in Nigeria (AHK Nigeria) in collaboration with the Nigerian–German Chamber of Commerce (NGCC) and the German-African Business Association (Afrika-Verein).
Created in 2007, GNBF alternates between Nigeria and Germany and is the leading conference in Nigeria that provides a platform for networking and exchange between governments, business representatives, institutions, associations etc. from Germany and Nigeria.
In 2010, the 4th GNBF was attended by the then President of the Federal Republic of Nigeria, Goodluck Jonathan, and German Chancellor, Angela Merkel, amongst several State Governors, Ministers and top-level private sector representatives. Participating in the GNBF has always been a focus for business delegations from Germany as it presents the opportunity to engage in B2B meetings and connect with several industry experts.
This year, the 9th GNBF is expected to have ca. 300 local and international participants form the German and Nigerian business, political and diplomatic community and will focus on addressing the opportunities, challenges and recent developments in the following sectors:
- Healthcare
- Skills development
- Agribusiness
- Construction
- Finance
- Energy and Environment
- Start-up (esp. Automotive and Fintech)
The conference will feature keynote speeches, presentations, panel discussions, product demonstrations etc. from high level government representatives and key industry experts. Sector focused workshops and breakout sessions will be organized to allow for in-depth conversation and/or training. A networking reception will also be organized to allow for increased networking opportunities.
The 9th GNBF is also expected to receive a business delegation in the lightweight construction industry from Germany.