Austrian Delegation at C.Woermann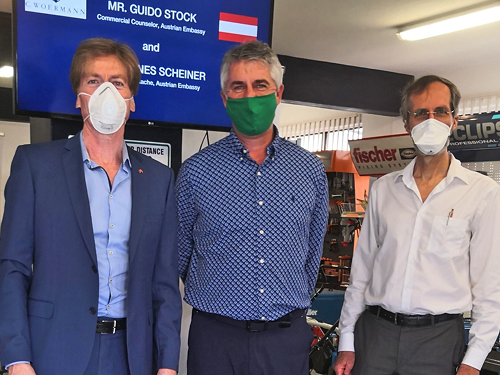 It was a pleasure to have the high ranked Austrian commercial representatives, Mr. Guido Stock, the Austrian business delegate in Lagos and Hannes Scheiner, Commercial Attaché from Commercial Section of the Austrian Embassy in Lagos at C. Woermann Nigeria on Friday last week.
Mr. Guido Stock as well as Mr. Hannes Scheiner appreciated going around and look at very modern and clean warehouses as well as a very professional working organization here in Matori.
We dove into the vast history of C. Woermann being on the ground already for more than 50 years, what we did in the past, and our strategy and vision for the next years to come.
Needless to say, that our Austrian visitors had good ideas about what other matching Austrian brands we could take on for our both benefits.
We were all looking positively into the near future hoping that the COVID 19 era will be history soon and we can all focus on marketing and selling all the brand we have as well as going after ideas of other brands and technologies we discussed during their visit.
Thank you very much for a couple of very interesting and inspiring hours!